The Kro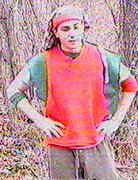 Hometown: The Hooo
Height: ???
Weight: ???
Finisher: The Krobar and The Kro's Elbow
Entrance Theme: Metallica - "Wherever I may Roam"

One of only three original members of the KWF, the Kro is one of the most mysterious individuals to grace the squared circle of mattresses. This legend is feared by all due to his unmerciful appetite for havoc. His signature moves the Kro-bar and the Kro's elbow have concluded many of matches resulting in victory for this legend. His early feud with the Blue Nun set the standard for all KWF stars and culminated with possibly the greatest match in KWF history. After their horrific match, both competitors disappeared. Now all the KWF has is sightings of this former World Champion, who made his presence k at Highly Unlikely 2000 and Turkey Day Terror 2001, where his relentless attack on Warfield shocked the entire wrestling community. Now by creating the Plague and aligning himself with original stars The Blue Nun and Johnny Fungle, they have put the fear of good into every wrestler. Because the question is, whose side are they really on?